Welcome to a more Graphic View of our line-up of products.
This page is meant to work hand-in-hand with our "Buy Now!" page.
Notice that the Item Numbers (e.g. Item # EK1 below) are listed on both pages and correspond perfectly.
Item #s are listed BELOW the corresponding photo (in "caption-like" form).
The intent of the Showroom is NOT to show everything, but just a few select key items to give you a visual feel for the array of possible options, in much the way that a restaurant might show pictures of a select few dishes.
The "Buy Now" page lists all of the products in detail along with offering a true buying experience (shopping carts and all).
Over here in the "Showroom" you can see what some of those products look like.  We considered mixing the two pages into one, but in the end decided that it was too distracting to add pictures to the "Buy Now" product page.
CHARACTERS:  
======================================================
(One Side)
(The Other Side)
Item #: CO1
ONLINE 3-Pack Character Boards – $12   (MSRP = $15)
This group of three is slated to release in conjunction with the Kickstarter for the Online App for the game.
======================================================
Item #: CC1
DICE TOWER 2-Pack Character Boards – $9 (Combined MSRP = $14)
(The Dice Tower exclusive items show above have one character / board)
Richard is coming out in conjunction with the 2016 Dice Tower Kickstarter, and Michelle via the 2016 Dice Tower Convention in Orlando Florida.
EVENT CARD-PACKS:
NEW DECK CARD-PACKS: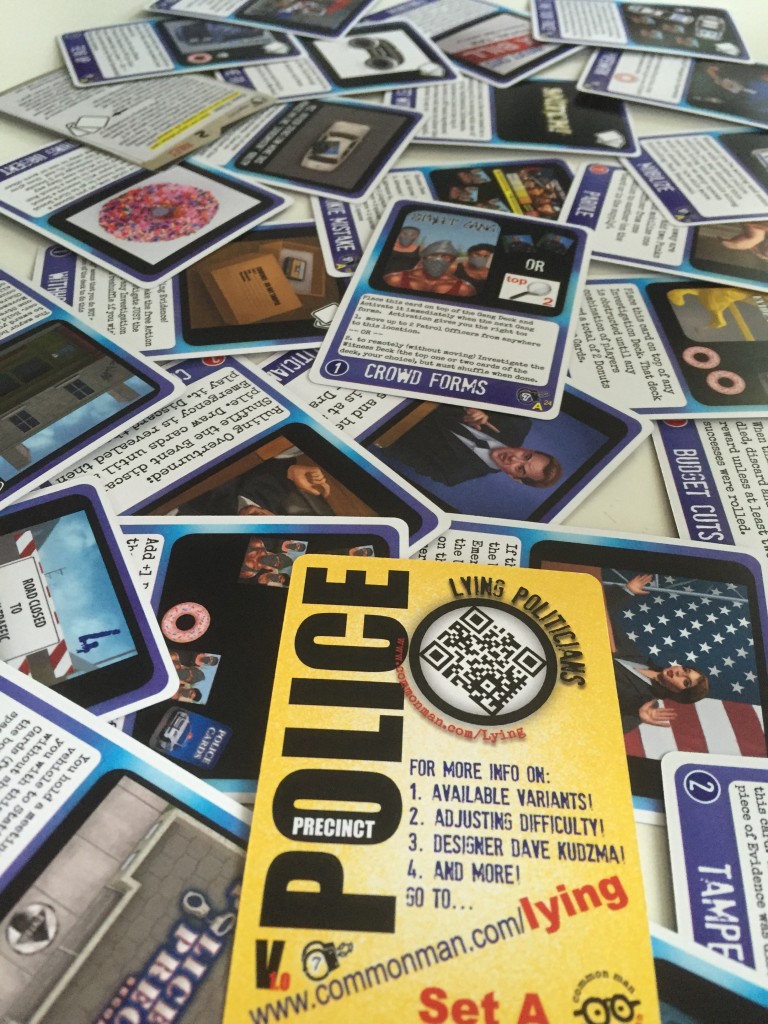 Item #: NL1


Lying Politicians –

$17

     (MSRP = $20) — DETAILS
KIT OPTIONS: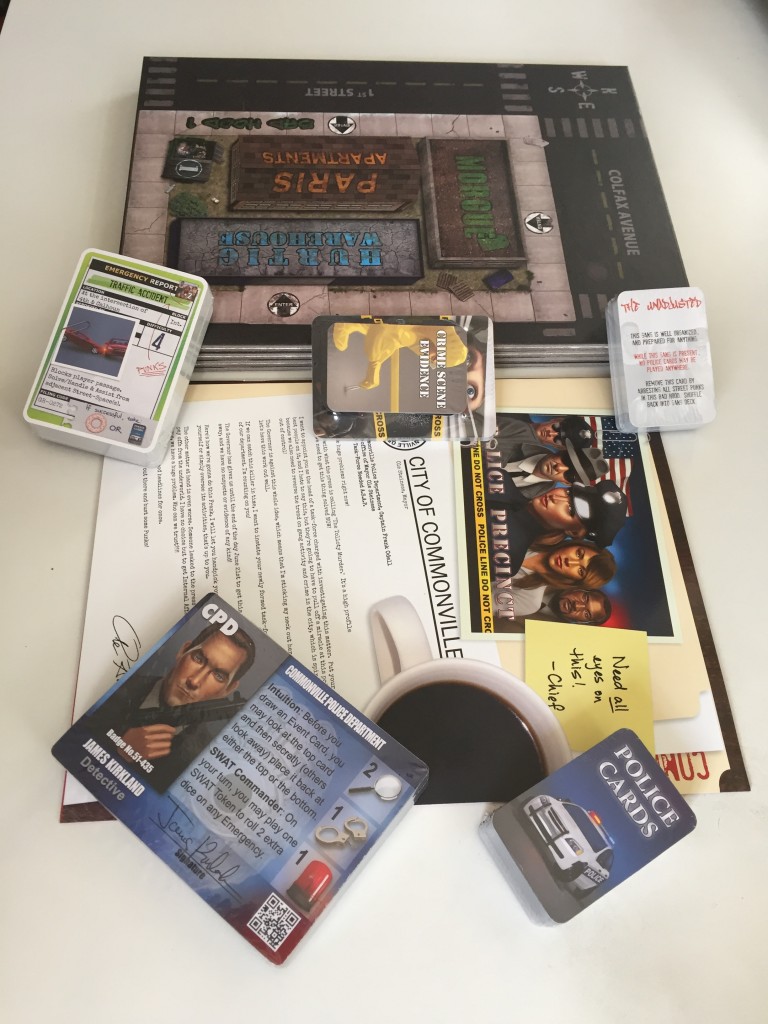 Item #: KFM
FULL MONTY UPGRADE KIT — $39 This item is especially designed for 1st Edition Owners to be able to get a strong taste of the latest in Police Precinct.  This package delivers an assortment of 2nd Edition components that you can swap-out.  For full details see the $39 pledge level listed HERE!  (note: does NOT include Stretch goals from that campaign).
THE BASE-GAME OPTIONS:
Item #: EK1 
Police Precinct 2nd Edition — WITH The 2016 KIT — $84     (Combined MSRP = $158.99)
OTHER POLICE GAMES: 
Item #: PG4 
The Entire GOOD COP BAD COP Line-up — $30  (Combine MSRP = $49.97) 
This item is simply a combination of all of the products available for the game Good Cop Bad Cop!  (notice the Dice Tower Seal of Excellence!)